Surge of Support to Protect Pebble Beach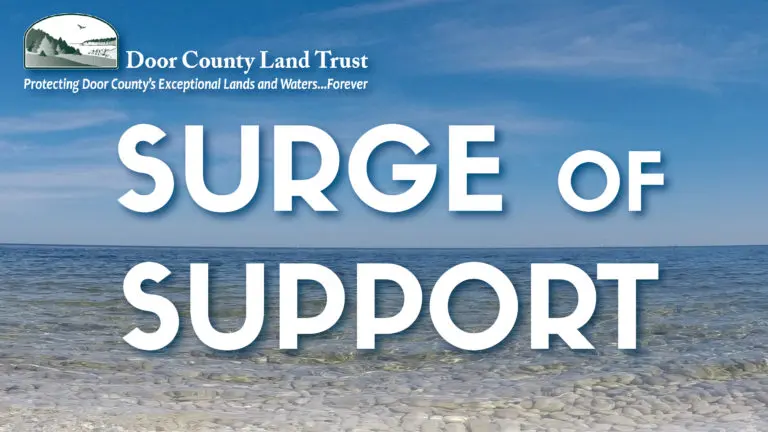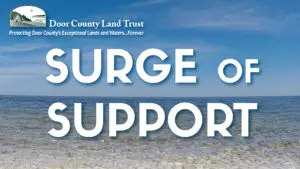 Surge of Support to Protect Pebble Beach
Sister Bay, WI – Door County Land Trust is pleased to announce a remarkable gift from angel donors Mary and Bob Wiley of Sister Bay, to protect Pebble Beach. Door County Land Trust and the Village of Sister Bay are partnering to protect 600 feet of shoreline and 17-acres of undeveloped land along Little Sister Harbor. The Wiley's significant and generous donation completes the Door County Land Trust's $500,000 milestone goal!
The Wileys are making their donation to Door County Land Trust to ensure the beach will remain open for the public to enjoy for future generations. Bob Wiley said, "Many places that were open in my youth have disappeared and I want them to be open for future generations. You hate to see these places go away."
The Wiley family has been vacationing in Door County for generations. Bob Wiley's great-grandfather, Professor Charles Melville Moss, arrived in Ephraim in 1887 and found room and board for his wife and four children at $6 per week. In 1901, Moss built a summer residence in Ephraim and generations of the family has been spending summers in Door County ever since.
"We're glad to help save some special areas," Bob Wiley said. The Wiley family enjoyed spending time at the lake on the Jacksonport beach and other places. "So many places that were open to people are disappearing. We want to see places like this protected for the future."
"We could not thank Bob and Mary Wiley enough for their generosity." Executive director Tom Clay said, "Door County Land Trust is truly humbled by the support we've received from hundreds of community members to protect Pebble Beach.  Never before in my 30 years of land conservation work have I seen such an immediate and passionate outpouring of support to protect a particular landscape.  The people who love Door County are as wonderfully generous and unique as this incredible place we call home."
The Village of Sister Bay and the Door County Land Trust are partnering to conserve the 17-acre Pebble Beach property. Door County Land Trust committed to raising $500,000 and the Village will fund $1 million towards the purchase price, and apply for a reimbursement grant through Wisconsin's Knowles-Nelson Stewardship Program. Though the Door County Land Trust's initial $500,000 goal has been met, additional donations received for the project will reduce the amount of funding needed by the Village. Strong community financial support increases the likelihood that the Village's grant application will be ranked favorably and that they will receive funding through the Knowles-Nelson Stewardship Program.
The purchase of the property is planned for mid-September. Once purchased, the property will be owned and managed by the Village of Sister Bay, with a conservation easement agreement held by the Door County Land Trust to ensure that conservation values of the property are protected.
Those who wish to be a part of the success and help to protect Pebble Beach may continue to make gifts to the project by making a donation at www.DoorCountyLandTrust.org/PebbleBeach.  Join the effort to protect Door County's exceptional lands and waters by becoming a member of the Door County Land Trust.
About the Door County Land Trust
Protecting Door County's Exceptional Lands and Waters…Forever. Door County Land Trust protects the wild places, scenic beauty, and ecological integrity that make the peninsula and islands so special. 14 featured nature preserves are open for hiking, and other low-impact, non-motorized recreational activities–all at no charge to the public. Trail maps and more information may be found at www.doorcountylandtrust.org.
###