Door County: A Place Like No Other
Once introduced to Door County, it doesn't take long to know, almost in one's bones, that it is a special place. The European settlers who landed in Ephraim sensed it. Those who live here know it. Even the casual weekend visitor quickly realizes it. Whether it's a trillium-strewn forest floor or the early morning mist rising from Kangaroo Lake, some part of Door County's beauty seeps into the soul and takes hold.
What is intuitively apparent—that Door County is a place like no other—is, in fact, backed up by science. With more miles of shoreline and more rare plants and animals than any other county in Wisconsin, Door County is an ecologically diverse treasure. Two major factors contribute to this diversity—limestone dolomite bedrock and the cooling effects of Lake Michigan: land and water. The story of how these factors influence Door County began millions of years ago, thousands of miles away.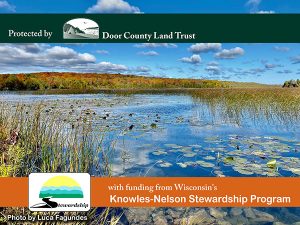 Can You Spare 6 Minutes to Protect More Land?
This note is a request for six minutes of your time in the next few days. Your six minutes will help protect more of Door County's exceptional lands and waters. Your six minutes can protect the the things you love about Door County! Please take six minutes (three minutes per...