---
"We in Door County are surrounded by natural beauty. It has marked the quality of our lives. We have an obligation to future generations to leave our own legacy of protected lands."
- Roy & Charlotte Lukes, Naturalists and Door County Land Trust Members
---
We're Your Land Trust
Since 1986, the Door County Land Trust has worked tirelessly to protect the place that define our natural character and heritage, the places that best say "Door County." From small nature sanctuaries hidden within villages, to miles of scenic open space along rural roadways, to signature limestone bluffs and shorelines, the lands we protect represent Door County's irreplaceable treasures. The lands we save today will have a profound effect on what Door County looks like far into the future.
The Work We Do
Volunteers are vital to our mission. Volunteers increase our capacity exponentially not only by helping us implement our work plans, but also by infusing energy and new ideas, taking the lead on exciting projects and events, and serving a key role in engaging with our community.
The Land Trust community of volunteers have varied interests and skills, but we all come together to help preserve this place we love. You'll meet volunteers who assist with finance and land acquisition, assist with administrative tasks, represent the Land Trust at festivals, prepare the nature preserves for public use, help to recruit new members, and more.
Opportunities
Whether you devote one afternoon or several hours a month, the Land Trust appreciates your contribution. We'll partner your skills and interests with a task that needs care.
Land Stewardship - Remove invasive plants, create and maintain trails, make general repairs and improvements on our nature preserves, and more.
Mailing Parties - Mail event invitations, newsletters and membership renewals with a group.
Member Events & Outings - Help with set up, clean up, serving or decorating, or join a committee to help plan one of our events or outings.
Community Outreach - Help the Land Trust grow! Host booths at community events, distribute brochures to visitor centers and local businesses, and more.
Office Work - Assist the staff with various short-term or long-term projects in the office.
To sign up to volunteer, simply click here to go to our contact page, complete your contact information and interest survey. We'll be in touch within a few business days. 
The Draw of Nature
by John Hermann
Land Trust preserves are magnetic in the way they pull at me. At Heins Creek, the morning light through the pines always appears new and different than it does in any other place. Similar feelings arise as I walk in the dappled afternoon light at the Bay Shore Blufflands' escarpment, through the woods, and above the limestone outcroppings.
"We retired to Door County because we'd had enough 'pavement pounding' and loss of nature in our earlier lives. So when the chance to preserve the canal property occurred, it was a no-brainer - do whatever possible to save this splendid place. Thanks to the Land Trust and many, many dedicated folks, the Ship Canal Nature Preserve has become and will remain a public treasure."
Bill Utley, Preserve Steward and avid hiker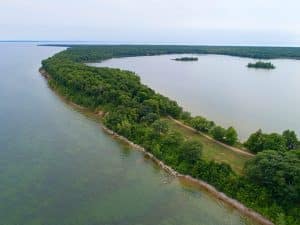 Chambers Island Landowners Purchase Additional Retreat Center Property for Preserve
Photo by Dan Eggert Through a generous outpouring of private donations from Chambers Island landowners, The Door County Land Trust has acquired a 22.75-acre ecological gem that fits perfectly into the original 830-acre plan for the Chambers Island Nature Preserve. Formerly part of the grounds that...