The Door County Land Trust has protected more than 8,000 acres of the best wildlife habitat and natural scenery Door County has to offer. Protecting and caring for Door County's exceptional lands and waters is an effort sustained by broad support from members, local businesses, charitable foundations and the community.
Whether you choose to give through donations of time or resources, all supporters are vital to the ongoing protection and stewardship of Door County.
We are confident that the bold and inspiring vision to protect Door County's exceptional lands and waters forever will be realized so long as the partnership we have with the community remains strong.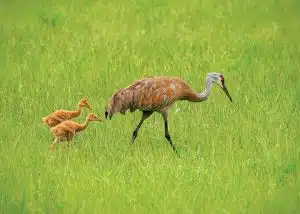 Kellner Fen Natural Area Addition Expands Land Protection
Photo by David Heilman Sand Hill Cranes are one of many species that will be protected on the new acreage. The success of Door County Land Trust's (DCLT) most recent land purchase is the direct result of the generosity of the Fischer family. The new addition...