New Land Conservation Protects Headwaters and Springs within Gibraltar-Ephraim Swamp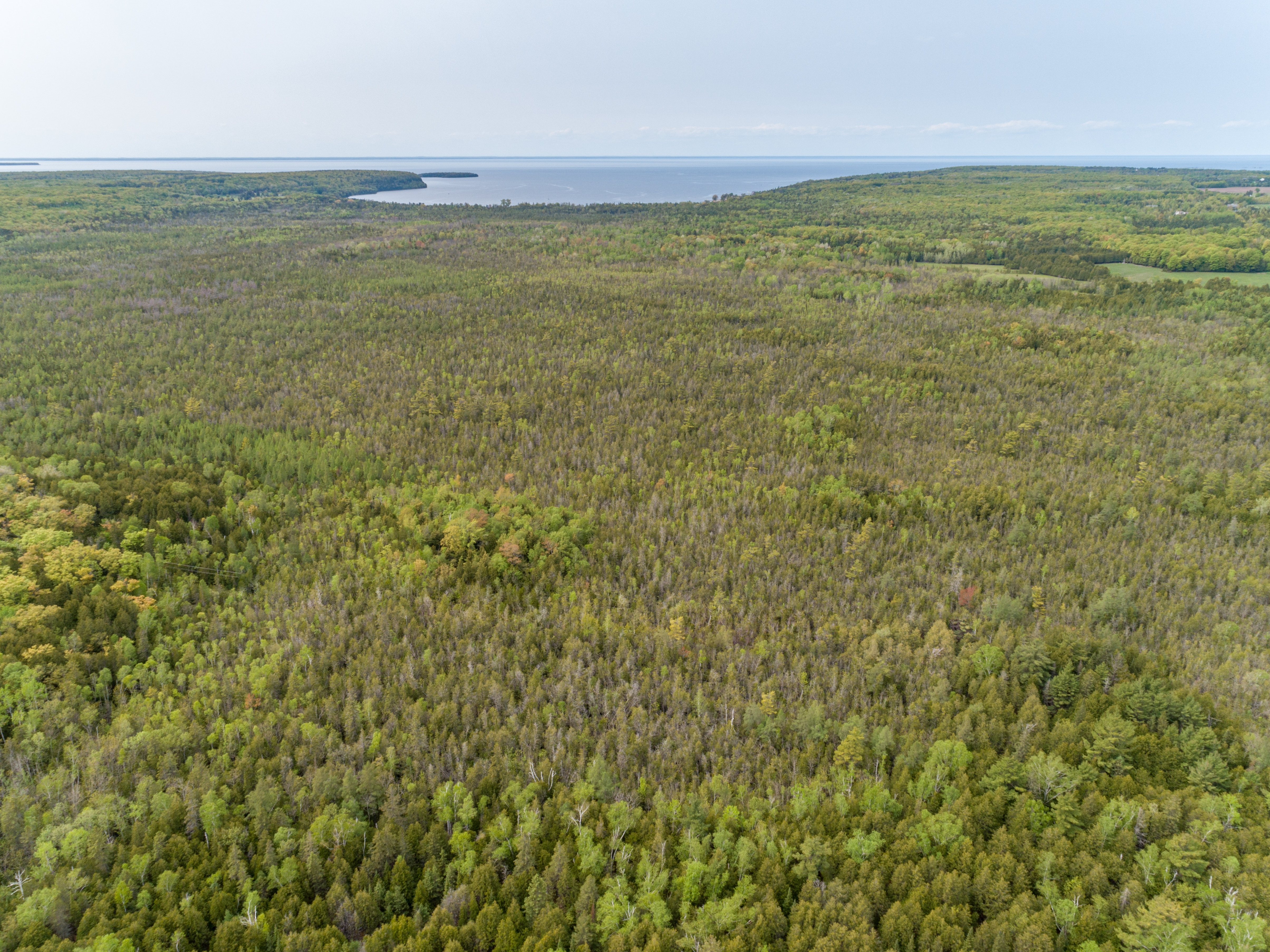 Ephraim, WI – The Door County Land Trust is pleased to announce a newly protected property containing wetlands, springs and streams within the Gibraltar-Ephraim Swamp State Natural Area. The 80-acre property is the second property in the area to be protected this year, and brings the total protection of these headwaters and springs to 277 acres.  These lands serve as a core piece within a larger wildlife corridor that includes the headwaters of several creeks which drain westward into Ephraim's Eagle Harbor and the bay of Green Bay. In addition to the wetlands and ponds that connect to the headwaters of multiple creeks, this purchase also protects a mature white cedar swamp forest—a fragile and vital ecosystem that supports many unique plant and animal species.
Door County Land Trust purchased the property from landowners, Dennis and Sue Bhirdo, who wanted to conserve the property and chose the Door County Land Trust to ensure their property remained in its natural state. The property holds many memories for the couple. Dennis recalls memories from his youth hunting and exploring the property with his father. Sue planted trees on the land shortly after her marriage to Dennis in 1962.
Conservation partners recognize that Gibraltar-Ephraim swamp contains some of the best remaining coastal wetland habitat in northern Door County. Coastal wetlands absorb waters that would otherwise create flooding events and help prevent sedimentation in the bay.
According to Door County Land Trust Director of Land Program Julie Schartner, "The cedar swamp naturally filters water before flowing into Eagle Harbor and the bay of Green Bay. Protecting wetlands is important to maintain the diversity of natural communities, but also plays a vital role in providing benefits to our human communities, such as filtering water and flood control."
Door County Land Trust is actively working to expand land protection within the Gibraltar-Ephraim Swamp State Natural Area due to its high ecological value and its rare ecosystems, as well as habitat for wildlife like migrating birds and spawning fish. This property serves as protected breeding habitat for numerous bird species known in the area, black throated green warblers and black and white warblers.
Funding for this purchase was provided by the Environmental Protection Agency's Great Lakes Restoration Initiative and Wisconsin's Knowles-Nelson Stewardship Program. Door County Land Trust seeks to raise $19,000 towards endowment contributions for the long-term care of this and another nearby property, as well as additional funding for other costs of permanently protecting the property. Contributions from the community and donors make projects like this possible. To help protect and care for these places, Door County Land Trust encourages community members to make a contribution of support at www.DoorCountyLandTrust.org.
Access to nature doesn't happen by accident! It takes a community to make the vision of protected healthy lands and waters a reality. Whether you hike, birdwatch, hunt, fish or enjoy a walk with your family, Door County Land Trust is here to Protect What You Love. The community is invited to join the effort to protect special places throughout the county by making a donation online.
For more information about giving to protect what you love, please contact Door County Land Trust Development Director Cinnamon Rossman, (920) 746-1359 or [email protected]. Follow Door County Land Trust on Facebook and Instagram.
Gibraltar-Ephraim Swamp Natural Area and Eagle Harbor beyond, Photo by Dan Eggert
About the Door County Land Trust
The Door County Land Trust's mission is "To protect Door County's exceptional lands and waters…forever."
Door County Land Trust protects 8,200 acres of open space, scenic beauty, and ecological integrity. Door County Land Trust nature preserves are open to the public at no charge for hiking, cross-country skiing, wildlife observation, some forms of hunting, and other low-impact, non-motorized recreational activities.
Door County Land Trust is accredited by the Land Trust Alliance Accreditation Commission and is a local, member supported, non-profit, community service organization.
Trail maps and more information may be found at www.doorcountylandtrust.org. Questions? Call (920)746-1359.
# # #