Door County Land Trust Kicks Off 'Protect What You Love' Campaign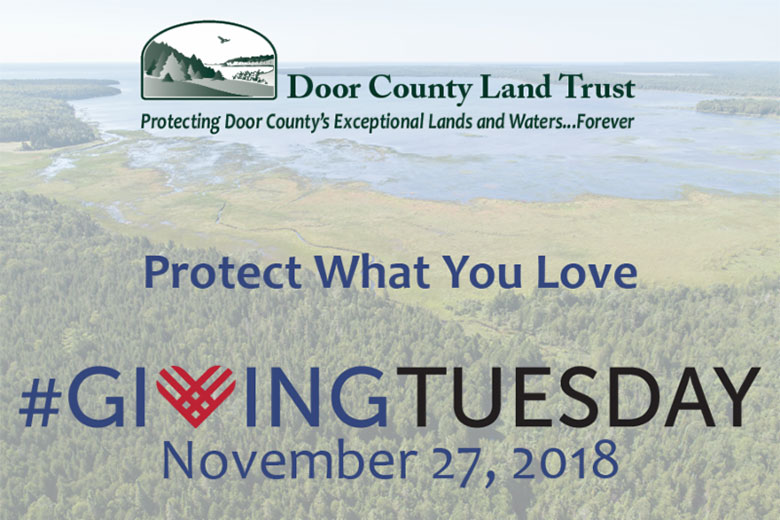 Land conservation doesn't occur naturally: it takes community action! That's why Door County Land Trust is proud to introduce the Protect What You Love new member campaign, which launches on #GivingTuesday (November 27) and ends on January 31.
Since its inception in 1986, Door County Land Trust has worked to preserve, maintain and enhance lands that contribute significantly to the scenic beauty, open space, and ecological integrity of Door County. In pursuit of this mission, they have earned a reputation as one of the Midwest's premier conservation organizations. Door County Land Trust has worked with scores of landowners to protect more than 8,000 acres of fields, forests, farmlands, orchards, wetlands and shoreline. A local, non-profit, non-governmental organization, Door County Land Trust is sustained by more than 2,200 supporters who love Door County and share a passion for its future.
In an effort to grow its mission, Door County Land Trust has a goal of gaining 150 new members by January 31. Door County Land Trust invites you to take advantage of new member incentives available on #GivingTuesday, which include donor matches, organic coffee and DC Land Trust apparel. Incentives will be announced via Door County Land Trust's facebook page between 7AM-7PM on #GivingTuesday*.
"Door County Land Trust nature preserves and the benefits of protected land are enjoyed by our entire community. Together, the community has helped protect some of Door County's most fragile lands, but there is so much more that could be done!" says Development Director Cinnamon Rossman, "Our preserves serve as our community's shared backyard. By supporting Door County Land Trust, we can all contribute to protecting Door County and keeping lands open for enjoyment 365 days a year."
It takes a community to make the vision of protected healthy lands and waters a reality. Whether you hunt, fish, hike or enjoy a walk with your family, Door County Land Trust is here to Protect What You Love.
For more information, or to contribute a new member incentive, please contact Door County Land Trust Development Director Cinnamon Rossman, (920) 746-1359 or [email protected]. Follow Door County Land Trust on Facebook and Instagram. 
*Facebook waives fees for non-profit fundraisers and contributions of any size are tax deductible.
Click Here to donate on online now!