"Conservation must not fail, for too much of our native landscape has already been thought-lessly destroyed. Far too much has already been taken by us from those who are to follow. It is our sacred duty to preserve what is left for unborn generations."
– Jens Jensen, founder of The Clearing
The Door County Land Trust was formed in 1986 to accomplish a single mission: to protect Door County's exceptional lands and waters…forever. The Door County Land Trust accomplishes its mission by entering into conservation easement agreements with private property owners, accepting donations of property, and by purchasing land.
The Door County Land Trust's expertise and years of experience in working with property owners and families in Door County is making a significant difference. Hundreds of acres of farms, orchards, fields, forest, wetlands, and shoreline are now permanently protected thanks to the partnership forged between the Door County Land Trust and more than 50 landowners. From Washington Island to Southern Door, the Door County Land Trust is leaving a legacy of protected lands to future generations.
Working with the Door County Land Trust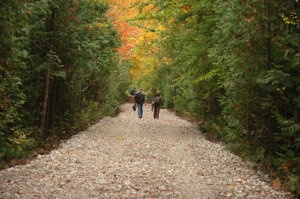 As a Door County property owner, you know that your land is special. Whether farm or forest, wetland or meadow, lakeshore or bluff, the lands that grace Door County are like no other.
Like many landowners, you are probably concerned about your land's future. With development pressures spreading throughout the county, many property owners are asking themselves: "What will happen to my land in the future? Will future owners care about the property the way I do? Can my children and grandchildren afford to keep the property?"
The reality is that unless positive action is taken to protect land, your piece of Door County paradise may be lost to future, inappropriate development and subdivision.
But there's good news: Landowners have it within their power to protect forever the conservation and scenic values of the lands they love. What Door County will look like a generation from now is being decided day-by-day, parcel-by-parcel, by landowners like you.
Since 1986, the Door County Land Trust has helped hundreds of landowners throughout the county protect their properties and would be honored to assist you and your family in planning for your land's future.
We listen to landowners' goals and vision for their land and help match these with the most appropriate land protection strategy.

We write conservation easement agreements or facilitate land donations that protect the property's conservation and scenic values while accommodating the needs of the landowner.

We conduct biological inventories for landowners to identify and document the variety of plants and animals present on their land.

Through our membership program we provide the financial resources needed to offer land protection assistance to landowners.

We are stewards of the conservation easement agreements and lands we accept and have the perpetual responsibility of protecting the scenic, rural, and ecological values of these properties.
Arriving at the land protection strategy that is right for your particular situation takes thought and deliberation. The Door County Land Trust has the concern, experience, expertise, and commitment to provide landowners with sound information and assurance of long-term protection for their property. We are here, ready to help.