Hiking during hunting season:
how to stay safe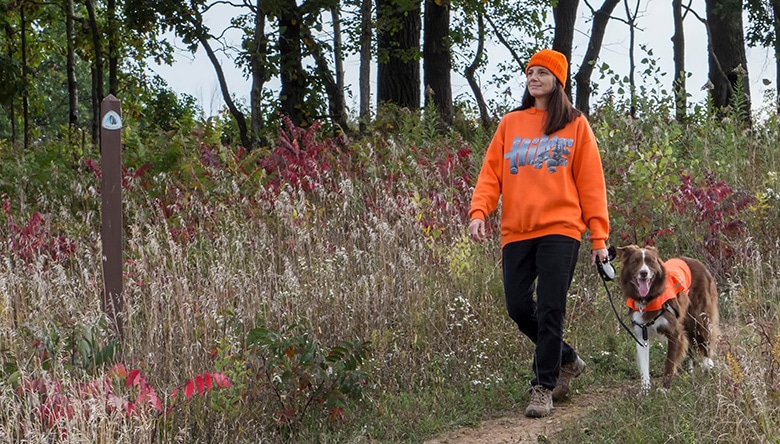 Door County Land Trust preserves accommodate a wide variety of public uses including hiking, canoeing, cross country skiing, scientific research and hunting. In order to create a safe and enjoyable environment for all visitors to our preserves, we ask hikers to review hunting safety guidelines and be aware during the season.
Hunting season is not an ideal time to hike, even on lands that don't allow hunting. While we recommend walking in town or using the local YMCA, if you choose to go outdoors, please practice safe hiking!
Hikers should keep the following in mind during the state's major hunting seasons:
1. Know the season
Hunting seasons vary by county and weapon permitted. This year Door County's deer-gun season is November 21–29, but be aware that bow hunting occurs from now through January.  To get specific seasons you'll want to check the Wisconsin Department of Natural Resources' Season Dates. Firearm season for white-tailed deer, in particular, is when hikers should be on high alert, since it's when the greatest number of hunters are active. Wild turkey season in the spring also tends to see a flurry of hunting activity.
2. Know the rules and reasons
Door County Land Trust works to protect Door County's exceptional lands and waters. Large populations of white-tailed deer are threats to rare and endangered plants on the peninsula. Hunters help keep the number of deer in balance with their habitat, aiding in a more diverse and healthy ecosystem. The nine-day gun deer hunting season is November 21–29 and is the most popular hunting season. Because hunting is allowed on most Land Trust property, know the rules before you go. Visit the Door County Land Trust Hunting Program Preserves page for full information.
3. Wear bright colors
For your safety, consider fall, winter, and early spring "Blaze Orange Season"—wear blaze orange (or other bright colors) from October through April when you and your pet are on the trails. Wearing a blaze-orange-colored vest, hat, or pack cover is one of the most important things you can do to stay visible to hunters. It's what hunters themselves wear for safety during deer gun season. If you don't have any of these (although you should if you're doing fall/winter hiking) make sure you wear bright colors and steer clear of earth tones. Avoid wearing white, because it resembles the rear of a white-tailed deer.
4. Hike during mid-day
Ideally, hikers would enjoy the trails on any of the other 356 days that they are open. If you have to hike, go during mid-day when there should be less activity. Hunters are most active during dawn and dusk. It's best to avoid being in hunting areas during sunrise and sunset since you'll be less visible in the dim light. If you must be out at those times, use a headlamp or flashlight and wear reflective material.
5. Make some noise
Going outside may be about getting some peace and quiet, but hunting season isn't the time to amble quietly down the trail. Talk with your companions, whistle, do your best Freddie Mercury impression. And if you hear shooting, try shouting to notify hunters of your presence.
6. Protect your dog
The safest place for pets during hunting season is inside. That being said, you can take steps to keep your dog safer when hiking. Dogs should always be on leashes while on Land Trust property, regardless of the season. This is especially important during hunting seasons. Plus, you know those blaze-orange vests mentioned earlier? They make those for dogs, too.
Visit the Wisconsin DNR's Hunting and Trapping in State Parks page for more information and for hunting and trapping maps for each state park.