Land Trust Awarded Grant to Protect Hine's Emerald Dragonfly Habitat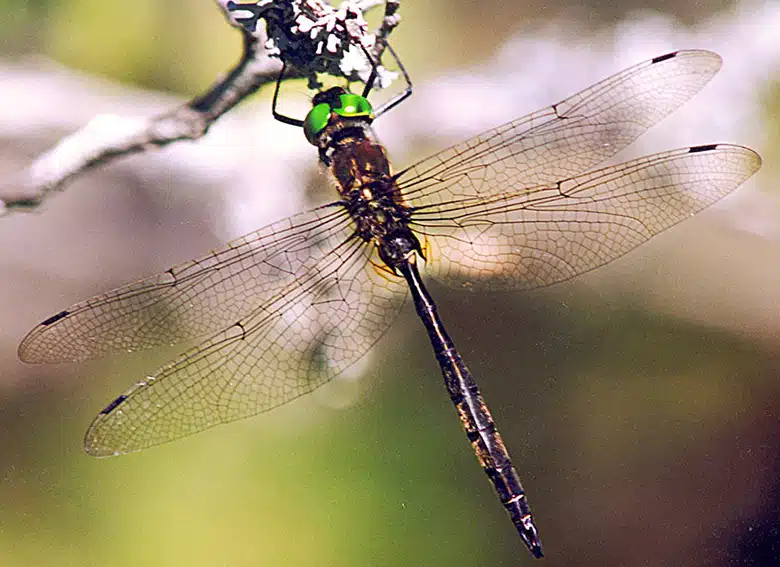 Door County Land Trust (DCLT) was awarded a Midwest Coastal Grant from the United States Fish & Wildlife Service (USFWS) in the amount of $196,736 to conduct invasive species control at Kellner Fen Natural Area, just north of Sturgeon Bay. The control of these plants directly relates to protecting the Hine's emerald dragonfly (HED) (Somatochlora hineana) in Door County, where an estimated two-thirds of the world's population lives. Within that population, Kellner Fen is one of eleven areas on the peninsula identified as critical breeding habitat for these dragonflies.
"Other than protecting the direct loss of habitat due to development, removal of invasive species to restore ecological processes that threaten Hine's emerald dragonfly populations is the most important thing we can do to protect them," said Jesse Koyen, DCLT Stewardship Director.
Invasive, non-native shrubs—like glossy buckthorn and Eurasian honeysuckle—out-compete native species and can overtake the landscape as a monoculture that offers little diversity, greatly degrading the ecosystem. By removing these invasive species, the landscape is restored to its natural plant diversity, which supports a broader range of insects—an essential component for insectivores like the Hine's emerald dragonfly.
The Hine's emerald dragonfly is the only endemic Federally endangered animal in Door County. The strict habitat requirements for HED are what make these insects so rare: marshes and wet meadows fed by alkaline groundwater seepage over a base of dolomite bedrock.
The USFWS grant will allow the Land Trust to greatly expand on previous invasive species control work, by not only re-treating previous restoration areas, but by increasing habitat restoration efforts to the entire Kellner Fen Natural Area. Because the Hine's emerald dragonfly forages well beyond its breeding locations, enhancing the entire natural area will benefit the species by restoring native ecological processes, stopping succession of woody invasive species, creating a buffer for future work, and improving foraging habitat.