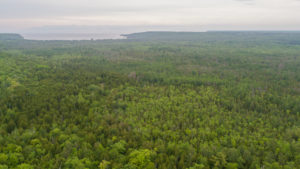 The start of February means that World Wetlands Day is here; an international day of recognition, celebration, and education for these incredible ecosystems. Wetlands are land areas that are wet or flooded with water either permanently or seasonally. Inland wetlands include marshes, ponds, lakes, fens, rivers, floodplains, and swamps. Wetlands are rich in biodiversity and are a habitat for a wide variety of plant and animal species. Latest trends show a global decline of biodiversity, while wetlands are disappearing three times faster than forests.
World Wetlands Day occurs annually on February 2, marking the date in 1971 of the adoption of an international agreement at the Ramsar Convention on Wetlands in Iran. The Convention on Wetlands is the oldest of the modern global intergovernmental environmental agreements. The treaty was negotiated by countries and non – governmental organizations concerned about the increasing loss and degradation of wetland habitat for migratory waterbirds. According to information published on the Ramsar website (ramsar.org), there are currently over 2,300 Ramsar Sites around the world and they cover over 810,000 square miles, an area larger than Mexico. They are recognized as being of significant value not only for the countries in which they are located, but for humanity as a whole.
The landscape known as the Door Peninsula Coastal Wetlands is one of only 39 sites in the US designated by the RAMSAR Convention of Wetlands of International Importance. More than 11,400 acres of land protected by Door County conservation partners, including the Door County Land Trust's Three Springs Nature Preserve, is designated as internationally significant, awarded for outstanding ecological qualities of global significance. These lands are tied by common features: low-lying wetlands and cedar swamps, cool lake temperatures, and a remnant boreal forest that advanced with the cool micro-climate of slow-moving glaciers 10,000 years ago.
The Door County Land Trust continues to focus their conservation work in Door County on protecting the diversity of wetland ecosystems found here. According to Julie Schartner, Land Protection Director, "Protection of wetlands and the diverse array of plant and animal species they support has been, and will continue to be, an important component of the work of the Door County Land Trust.  We protect wetlands directly as well as lands that provide a buffer to these often fragile systems."
In 2020 Door County Land Trust seeks to raise $136,000 towards wetland protection and restoration efforts in Gibraltar-Ephraim Swamp, Big and Little Marsh, Coffey Swamp and the protection of fishery habitat in southern Door County. Contributions from the community and donors make projects like this possible. To help protect and care for these places, Door County Land Trust encourages community members to make a contribution of support at www.DoorCountyLandTrust.org.
Read more about Door County Land Trust wetland protection work below:
New Land Conservation Protects Headwaters and Springs within Gibraltar-Ephraim Swamp, June 2019
Headwater Wetlands Protected at Gibraltar-Ephraim Swamp, May 2019
Headwaters of Eagle Harbor Protected!, April 2019
New Acquisitions Underway at the Gibraltar-Ephraim Swamp Natural Area, March 2018
120 Acres of Coastal Wetland Property Protected!, July 2017