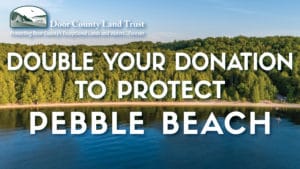 Door County Land Trust Announces
Challenge Gift to Protect Pebble Beach

Sister Bay, WI – Door County Land Trust announces a $50,000 challenge gift to help protect Pebble Beach. For every gift received before August 15, generous contributors Meredith and Fraser Hart will make a matching donation, up to $50,000. The Hart's have spent many summer days at the shoreline and fondly recall countless family memories tied to Pebble Beach. They make this challenge gift in honor of their grandchildren, Dirk and Raina van Duym, so Pebble Beach can be enjoyed for generations to come.
Pebble Beach is currently for sale, and Door County Land Trust is partnering with the Village of Sister Bay to protect the property. To help the project succeed, Door County Land Trust must raise $500,000 towards the purchase price of the property before the sale is final in mid-September.
The Hart family, like so many in Door County, have a deep love for the beach. "Pebble Beach is the most important place on the planet to me," says Anne Hart, who was born and raised in the county. The Hart family has deep Door County roots, with over 150 years of love for the peninsula and islands. Her parents, Meredith and Fraser Hart, are also deeply committed to Pebble Beach preservation, saying the property, "has been a part of our family for generations and holds many memories." Each of the Hart children and grandchildren learned to swim at the beach and grew up there over the summers.
"Pebble Beach is an iconic Door County spot, both for the public and environmentally, making it the ideal community conservation project. Right now, we have the unique opportunity to protect land and shoreline that is intricately tied to lake traditions and to generations of memories. The Hart's gift asks each of us to recall our memories there, dream of those yet to come, and contribute what we can to protect this very special place," says Door County Land Trust executive director Tom Clay.
Door County Land Trust thanks Meredith and Fraser Hart, their children and grandchildren, for their contribution to protect Pebble Beach for the entire community to enjoy. If successful, the protection of Pebble Beach will ensure that the 17-acre cedar forest and 600-foot pebble shoreline remains undeveloped and accessible for the public to enjoy forever. Once purchased, the property will be owned and managed by the Village of Sister Bay, with a conservation easement agreement held by the Door County Land Trust to ensure that conservation values of the property are protected.
More than 160 contributors have donated to help protect Pebble Beach so far and many more have pledged their support online. To make your contribution of support, please visit www.DoorCountyLandTrust.org/PebbleBeach or call the Door County Land Trust office at (920)746-1359.
About the Door County Land Trust
Protecting Door County's Exceptional Lands and Waters…Forever. Door County Land Trust protects the wild places, scenic beauty, and ecological integrity that make the peninsula and islands so special. 14 featured nature preserves are open for hiking, and other low-impact, non-motorized recreational activities–all at no charge to the public. Trail maps and more information may be found at www.doorcountylandtrust.org.
###