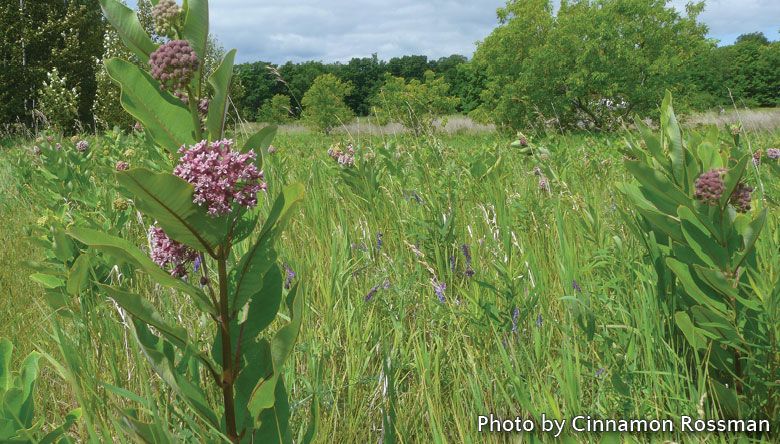 Location: Bay Shore Blufflands Nature Preserve, 5454 Bay Shore Drive

Date: Monday, June 24, 2019

Time: 9:30-11:30

What to wear: Dress in layers for a variety of weather possibilities. Long sleeves and long pants are recommended.

What to bring: Water bottle, sunscreen, snacks, insect repellent. You may bring work gloves, goggles, kneepads or other personal gear if desired.
What should I plant to attract pollinators? Which native plants will work best in my yard?
Find out the answers to these questions and more during our Bay Shore Blufflands Demonstration Garden Work Day!
We're looking for volunteers to help with the installation and planting of our native demonstration garden—while learning best-practices in the field. Volunteers will help prepare the ground, lay out plants following a braided-row design, and learn from fellow Bay Shore Blufflands neighbors, Dan Collins and Nancy Aten. Dan and Nancy are owners and designers of Landscapes of Place, focusing on native plantings and landscape restoration.
"Demonstration gardens are a great way to socialize the ideas of connected Door County habitat and caring for conservation lands. They can also provide some ideas for landscaping after buckthorn removal."
– Dan Collins and Nancy Aten, Landscapes of Place
Pollinator Gardens:
Provide both food and cover for pollinators such as the monarch butterfly

Provide native plant species which bloom over the entire growing season

Aesthetically pleasing and interesting to the human eye

Add to human interest and provide landscaping opportunities after invasive species control
Braided Row Planting:
A braided row of two or three shrub species in-planted with native grasses and forbs to replace buckthorn and other hedgerows consisting of invasive species

Enhances habitat value by providing cover and food for pollinators, birds and other wildlife because it replaces buckthorn and other invasive species while still providing privacy from neighbors
Want to receive emails about upcoming work day schedules or weather changes?
Sign up to volunteer for outdoor work and land stewardship.
Door Stewardship Alliance is a partnership between The Nature Conservancy and Door County Land Trust. For the latest email updates and news on habitat restoration efforts, please sign up at Door Stewardship Alliance website.
Free • Open to Everyone

Staff Leader: Amanda Pyke


For more information,
email: